LA Forum event co-coordinator (with Patricia Bacalao, Jennifer Bonner, Victoria Camblin, Wendy Gilmartin, and Roberto Sheinberg)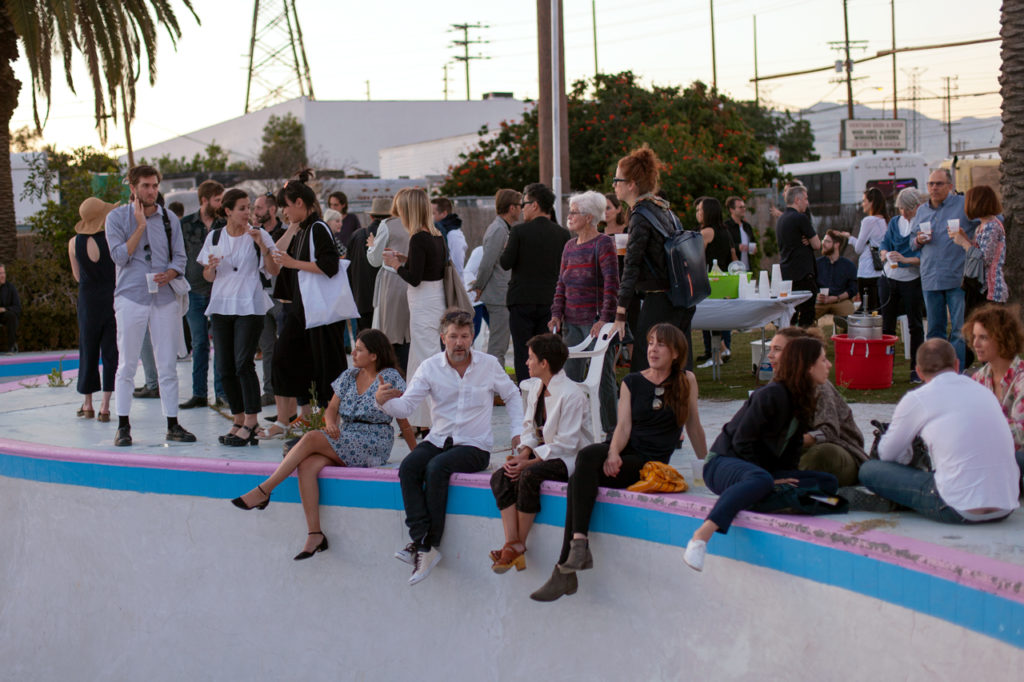 Event photography by Monica Nouwens
***
"We offer LA as a case study in the designed domestic and urban environments that should give us clues about America at large. The cleansing effects and the nourishing and communal aspects of the pool may serve us well in the possibly stifling political climate of 2017."
Jennifer Bonner, excerpt from Guest Editor's Letter, ART PAPERS 41.01 (Spring 2017)
The LA Forum hosted a celebration of ART PAPERS magazine's recently-launched, special architecture and design issue, guest edited by Jennifer Bonner and guest designed by April Greiman. With a special focus on Los Angeles, the publication features 72 pages of playful and provocative contributions by local writers and designers looking at the current state of architecture and design through the lens of the city's pools, the culture that surrounds them, and the broader landscape of water and hydrology.
The evening featured a reading/performance by 30+ contributors – framed as an exquis(wet) corpse – accompanied by informal discussion, beverages, light refreshments, and other entertainment.
***
Dear Contributor to Art Papers 41.01 "Special Architecture and Design Issue,"
On May 23, we will be celebrating your designs and writings at a collaborative Art Papers / LA Forum "In the Gutter" event at the Pink Motel in Sun Valley. We're not interested in yet another panel discussion, though. There are 38 of you and, not only do we want all of you to have an opportunity to share your voice, we want something new to come of having everyone together in the same space and time.
We, in turn, are organizing the evening as an "exquis(wet) corpse." All of you will have between 1-2 minutes at the microphone to share… a paragraph from your Art Papers contribution, a new reflection on the pool/water culture of Los Angeles, an extemporaneous response to a fellow speaker, whatever moves you. The unpredictable format promises to make a splash!
The surprise connections that the night engenders, then, will have a second life in the form of a new publication. Art Papers and the LA Forum are collaborating in the production of a pamphlet of the event's transcription.
Plus, the gathering, quite simply, will be fun. There will be food, drinks, music – all from the basin of an empty pool. Come ready to dance, share, and pretend swim.