Panel Discussion Organizer and LA Forum Summer Exhibition Team Member (with Orhan Ayyuce, Rob Berry, Ella Hazard, Eric Nulman, and Roberto Sheinberg)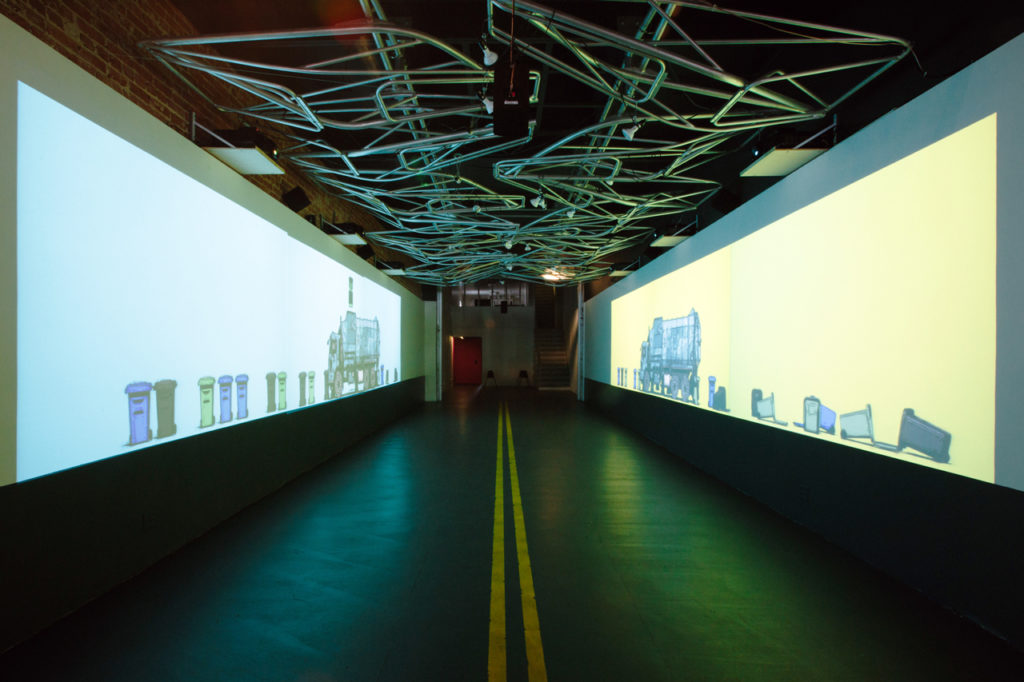 Exhibition Photograph by Yvette Roman
***
Median in Conversation
WUHO Gallery (6518 Hollywood Boulevard, Los Angeles, CA 90028)
July 14 – August 28, 2016 Median Exhibition | August 7 Panel Discussion
Co-Sponsored by Epson and Del Amo Construction
The LA Forum, in conjunction with its summer exhibition, Median, hosted a conversation about Los Angeles culture as experienced from the street and expressed through media.
Moderated by Johanna Blakley, Managing Director and Director of Research at University of Southern California's The Norman Lear Center, the panel included:
Bill Ferehawk and David Hartwell, creators of Median
Naomi Iwasaki, Program Director of the Los Angeles Mayor's Office Great Streets Program
David Ulin, author of Sidewalking: Coming to Terms with Los Angeles
Andrew Wilcox, landscape architect and contributor to LAtitudes: An Angeleno's Atlas
Median, an experimental moving image installation, presents a Los Angeles of drive-by impressions. It distills the city into the canned personas that it projects to its passers-by and lends perspective on the everyday urban tics through which the city is read.
With Median as the backdrop, our panelists, keen observers of Los Angeles's urban experience, delved into questions about the play between the lived and the mediated and how this influences the city's image and reality.
Event Video: by Duncan Scott McGibbon of The Norman Lear Center
***
About the Panelists
Johanna Blakley (moderator), PhD, is the managing director at the Norman Lear Center, a research and public policy institute that explores the convergence of entertainment, commerce and society. Based at the University of Southern California's Annenberg School for Communication & Journalism, Blakley performs research on a wide variety of topics, including global entertainment, cultural diplomacy, entertainment education, celebrity culture, fashion, digital media and intellectual property law. She has two talks on TED.com: Social Media & the End of Gender and Lessons from Fashion's Free Culture. She speaks frequently in the U.S. and abroad about her research and her work has been cited in Reuters, the New York Times, The Economist, the Washington Post, The Atlantic, the Los Angeles Times, Politico, Huffington Post, Forbes, Business Week, PR Week and GOOD. She has appeared on Good Morning America, MSNBC, Al Jazeera and Current TV, and on several radio programs, including On the Media, Planet Money, Marketplace and the TED Radio Hour.
Bill Ferehawk creates films and moving images. A key subject of his work is the built world. Median is a discursive exposition about the everyday collisions of contexts that make Los Angeles endlessly surprising and challenging. The work explores a myriad of urban audio-visual-scapes and draws out new perceptions and interpretations of the urban experience. Forthcoming, is a new moving image installation, Vessel of Change (supported by the Graham Foundation) that will be exhibited at the opening of the new Wende Museum in 2017. Vessel of Change explores the peculiar physical circumstances surrounding the historic Malta Conference of 1989, nicknamed "Seasick Summit," and symbolic end of the Cold War. Bill is also creator and executive producer of a new 10-part television series for A+E Networks (2017) about the design and construction of projects that are improving our world. He is thankful for institutions and companies that have supported his work, including the National Endowments for the Arts, National Endowment for the Humanities state councils, Graham Foundation, Intuit, Autodesk, and Epson. Bill studied art history at the University of California, Berkeley, architecture at Yale School of Architecture, and is co-founder of Radiant Features in Los Angeles.
David Hartwell specializes in the visualization of technical and historical content. He began his career working for visual effects pioneer Robert Abel developing graphical user interfaces for IBM's educational multimedia projects. He has since then art directed, programmed, and animated television and installation content for the likes of Disney, Microsoft, MGM Grand, History Channel, Discovery, TAG Heuer, and PBS. David was formally trained as a photographer. He then obtained his B.A. (1991) from Art Center College of Design (Europe). As a designer, David has always been interested in the experiential aspect of art delivery. Unimpressed by the current state of video art, David never gave up on the promises of multimedia. He believes that the technical advancements of the last twenty years do now afford video artists to break away from the spatial confines and chronological limitations of the media allowing the viewer to engage with the piece on their own terms.
Naomi Iwasaki currently serves as Program Director to the Great Streets Program in the Los Angeles Mayor's Office, managing outreach strategies and funding opportunities for community development projects across the City. She previously worked at Community Health Councils (CHC) analyzing transportation and transit-oriented development policies to advocate for improving health and access disparities impacting South Los Angeles. Before that she worked at the New York City Department of Transportation, designing bicycle lanes and developing new community-based outreach models in marginalized neighborhoods including Harlem and Brownsville, Brooklyn. Naomi holds a Master's Degree in Urban Planning from New York University and B.A.'s in Ethnic Studies and Social Welfare from UC Berkeley.
David Ulin is a book critic, and former book editor, of the Los Angeles Times. He is a 2015 Guggenheim Fellow. He is the author of Sidewalking: Coming to Terms with Los Angeles. His other books include The Lost Art of Reading: Why Books Matter in a Distracted Time and The Myth of Solid Ground: Earthquakes, Prediction, and the Fault Line Between Reason and Faith. He has edited two collections of Southern California literature: Another City: Writing from Los Angeles and Writing Los Angeles: A Literary Anthology, which won a California Book Award. His work has appeared in The Atlantic Monthly, The Nation, New York Times Book Review, Black Clock, Bookforum, Columbia Journalism Review, and on National Public Radio's All Things Considered. He teaches in the Creative Writing Program at the University of California, Riverside, and in the Professional Writing Program at the University of Southern California.
Andrew Wilcox is a Professor of Landscape Architecture at California State Polytechnic University, Pomona. At Cal Poly Pomona, he is the undergraduate program coordinator and teaches design studios at all levels with an emphasis on interdisciplinary practice and urbanism. Andy has current interest in the found conditions of wilderness within the vast infrastructure of Los Angeles. His essay, "Stalking Carp," explores this interest in LAtitudes: An Angeleno's Atlas.  In addition to teaching and creative work, Andrew is active in the ASLA, most recently serving on awards juries at local and national levels. Andy is a licensed Landscape Architect in California. He holds a BSLA from Cal Poly Pomona and a MLA from the University of Southern California.
***
*Home post image: Photograph by Luis Torres
***
Exhibition Press: "Median: an urbanism exhibition from 'the most privileged and uninhabitable location in Los Angeles–the middle of the road.'" Amelia Taylor-Hochberg.