Woodbury School of Architecture (Los Angeles and San Diego) digital fabrication laboratory and wood and metal shop facility improvement coordination with Shawn Benson, Oscar Corletto, Matthew Corbitt, Jason King, and Christopher Puzio.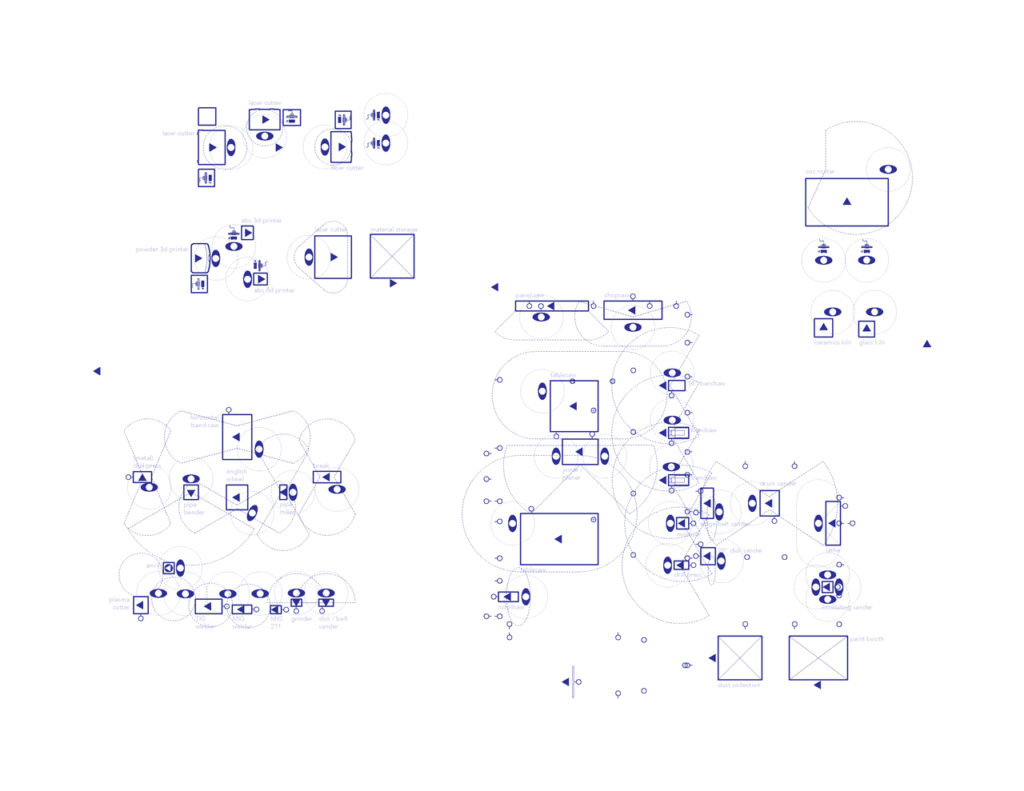 Space planning diagram: machines.
***
"The dichotomy of mental versus manual didn't arise spontaneously. Rather, the twentieth century saw concerted efforts to separate thinking from doing. Those efforts achieved a good deal of success in ordering our economic life, and it is this success that perhaps explains the plausibility the distinction now enjoys. Yet to call this 'success' is deeply perverse, for wherever the separation of thinking from doing has been achieved, it has been responsible for the degradation of work. If we can understand the process by which so many jobs get fragmented, we will be better able to recognize those areas of work that have resisted the process, and identify jobs in which the human capacities may be more fully engaged."
Matthew B. Crawford, Shop Class as Soulcraft: An Inquiry into the Value of Work
***
As the coordinator of Woodbury School of Architecture's federal grant, I oversaw improvements to campus maker resources. In three construction phases, I project managed the addition of digital fabrication laboratories and upgrades to the wood and metal shops for locations in both Los Angeles and San Diego. Alongside the shop masters, I also collaboratively wrote and helped set-up facility operational and safety protocol.
***
Photography: Monica Nouwens